PETER VIERTEL
BOOKS
American Skin
Houghton Mifflin, 1984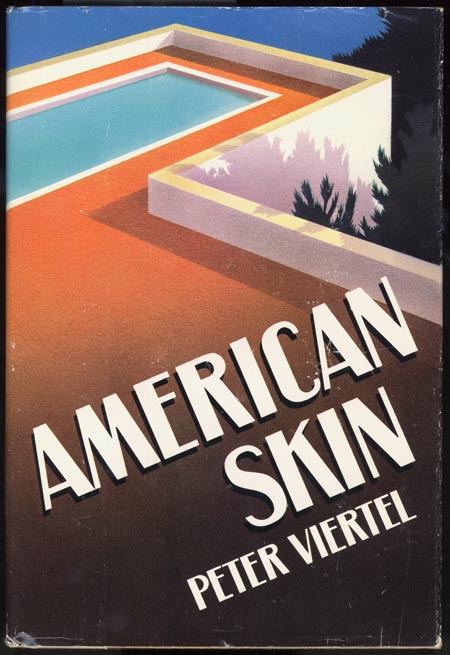 [Below: Dust jacket flap text]
"A dramatic novel of expatriate high life set on Spain's Costa del Sol, American Skin is a bittersweet love story about the rich and the homeless, and the complex fabric of love and circumstance.
At the story's center is David Brandt, a handsome Californian who comes to Marbella to soothe the wounds of a recently ended affair and to escape from the memories that haunt him. Self-exiled amid the opulent glamour of this seaside resort, Brandt wants only to put his life back together, and to forget. Days and nights spent with affluent foreigners and the intrigues of international commerce, however, lead him to Hope Clarendon. The beautiful and mysterious American wife of a powerful British tycoon, Hope is tied to her husband despite his neglect and infidelities, and Brandt is unwittingly drawn into a romantic involvement that he cannot afford. When Max Clarendon suddenly returns to Marbella, an afternoon confrontation turns into a near-fatal accident at sea. less than twenty-four hours later, an ironic turn of events culminates in a tragic crime of passion.
In his sixth novel, Peter Viertel explores the search of the homeless for a place to belong and the pleasure of fulfillment. The powerful and mature voice of Viertel, the intoxicating and exotic scenes of the coast of Spain, make this masterly, well-crafted novel a compelling story of love, tragedy, and survival.
Peter Viertel was born in Dresden in 1920 and was raised in Hollywood. He is the acclaimed author of five previous novels, among them White Hunter, Black Heart and Bicycle on the Beach. He lives with his wife, actress Deborah Kerr, in Klosters, Switzerland, and Marbella, Spain, where American Skin is set."
[Below: photo from the dusk jacket]